We stay on top of our industry by being experts in yours.
Your logo represents your business work, its core message. Logo design needs to fully capture this intangible business insight while making quick contact with customers. Through our graphic design services in Udaipur, make your logo powerful and memorable.
Webtech Softwares Pvt. Ltd. provides graphic design services in the B2B and B2C space in Udaipur. Our graphic designer Udaipur teams work as an extension of your digital marketing and branding teams to meet all design requirements. In 20 years, we have delivered on various design requirements, and built capabilities to meet project requirements.
Graphic designing is a creative way to promote a business and communicate with potential customers. This technique is often used for advertisements, Corporate Logo Designing, Corporate Brochures Designing, Corporate Flyers Designing, Business Card Designing, Power Point Presentation, and Email/Newsletter Designing.
Organizations require excellent graphic designers who can function efficiently. To meet the requirement, organizations are always looking for a competent graphic designing company in Udaipur, who can perform this task efficiently.
Corporate Branding we serve.
Any organization or company needs branding to increase its sales and enrich its business. Above the business point of view, a company needs recognition that will set the initial concept of sales in motion. Webtech Softwares Pvt. Ltd. creates logo and brand promotional material that will give your users the best first impression.
Graphic design optimizes your marketing efforts across all channels and is key to building a professional brand.
Just as your personal identity makes you unique, your brand identity is the special sauce of your business that sets you apart from every other Company on the block.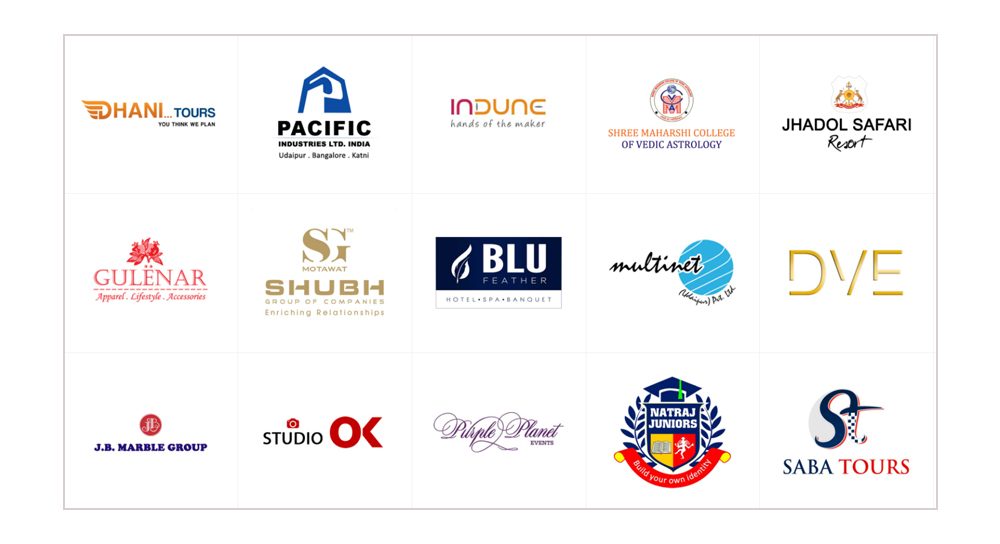 Corporate logo designing is a collection of all the elements that a company creates to portray the right image to its consumer. Brand logo identities differ from "brand image" and "branding", even though these terms are sometimes considered interchangeable.
2. Corporate Brochure Designing
As long as you have lived under a rock all your life, you are definitely handed your fair share of brochures. Whether you're trying to drive traffic to a new gym location, display a property for sale, or get the word out about your business, brochures are powerful and effective tools to captivate and educate any audience.
When it comes to brochures, it is about design. A great design will force your audience to read all of what you are doing. A less-than-stellar design would end up in the trash can.
Flyer is an easy and effective way to tell people about your services and products on the road. They may never have seen your website, or been on social media. Even if they are online, they can take more notice of a flyer than scroll through their news feed.
You cannot underestimate the importance of color on your flyer. Always try to avoid printing in black and white unless your design requires it. Try to limit your color choice to two or three and this makes the print easier to read. Using too many colors can cause a mess in processing the information.
A business card is a small, printed, usually credit-card-sized paper card that holds the details of your business, such as a name, contact details, and brand logo. Your business card design is an essential part of your branding and should serve as a visual extension of your brand design.
These businesses serve the many basic needs of a multi-device professional: advertising, brand recognition, call-to-action, and of course contact information. When properly designed, these pocket-size hoardings can leave a lasting impression and make life-long customers from strangers.
Making your presentation more interesting through the use of multimedia can help attract audience attention. PowerPoint allows you to use Text, Images, Audio and Video for more visual effects. These visual and audio cues can help make a presenter more engaging and interactive with the audience.
Email newsletter template design is an important element when you do email marketing. Your newsletter template design is as important as your content, an eye catching and carefully crafted newsletter template can be very effective to retain and bring in additional customers.
Advertise your company through our designs.
Registered Office
Webtech Softwares Pvt. Ltd.
152/B, 1st Floor, Shakti Nagar Corner, Udaipur-313001 (Rajasthan) INDIA
anil_udr@yahoo.com, info@webtechsoftwares.com
Call Now: +91-98280-24253, +91-98291-24253