WSPL, Udaipur best OpenCart Development Company, specialize in providing multiple OpenCart services for every business segment including small, medium and large business enterprises. Our OpenCart Development Services Udaipur will help you build a highly dynamic and user-friendly eCommerce store with attractive and feature-rich details for the end users.
Be it web designing, payment gateway integration, product management, installation, adding or removing products, or anything related to eCommerce, WSPL delivers all these OpenCart Development Services Udaipur in a highly manageable manner.
We, WSPL primarily focused on offering OpenCart Development Services Udaipur to the valued clients and helping them to expand their online business across all possible functional frameworks and working platforms. Keeping in mind the advanced technology and latest industry trends, we provide the best OpenCart development services in Udaipur to the businesses as per their requirements. Here, we are backed by the presence of highly qualified and skilled professionals who understand your requirements and provide mind-blowing results.
Our OpenCart developers excel in on-time delivery and ensure qualitative results.
WSPL is recognized as the best OpenCart development company in Udaipur. Hire our OpenCart developers for your project and create an excellent online shopping experience, interact and convert more customers, and enhance your company's reputation and reach globally.
What is OpenCart (eCommerce) Development?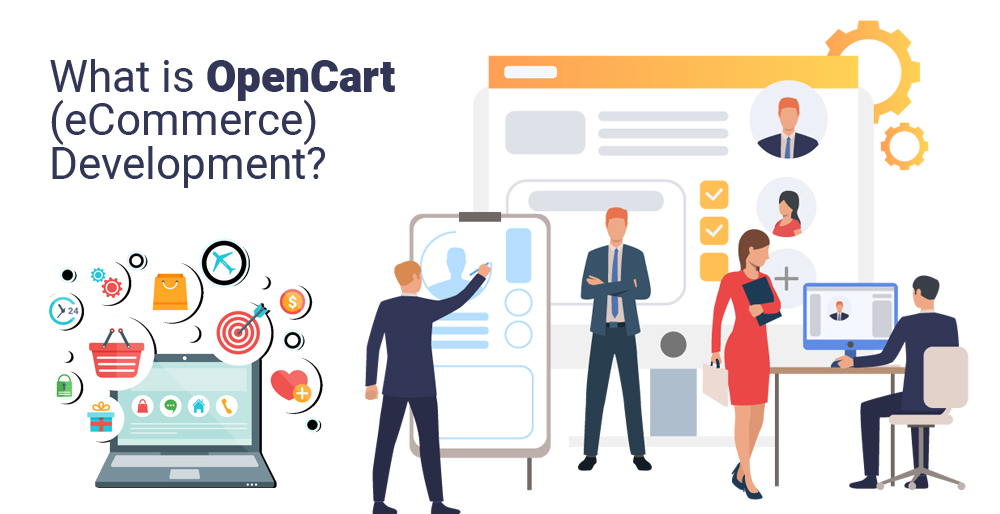 OpenCart is one of the most preferred and powerful eCommerce development solutions built with PHP. It is a simple, easy to use, lightning fast and cost effective solution available in the market. This technology enables you to balance your business effectively and quickly while focusing on running the business pleasantly.
With OpenCart, it's easy to incorporate a wide range of social features. It comes with several eCommerce extensions like – multiple payment modes, order management, coupons and discounts, lifetime free support and software updates.
Key Benefits of OpenCart Web Development?
Whether you are looking to build your eCommerce store from scratch or upgrade your existing platform with OpenCart services, our developers are here to help you through the entire process. When you partner with a leading OpenCart Development Company Udaipur, you can get the following benefits:-
You can simplify the eCommerce store setup process with the flawless OpenCart development solutions provided WSPL. Business owners can easily manipulate online business in relation to users, Order management, and inventory. Similarly, developers can easily incorporate custom layouts and extensions into the e-store.
OpenCart enables you with its multi-store management features which give you comprehensive functionality to grow your e-store. This means that, with one back-end platform, you can easily operate multiple stores with different designs and catalogs.
Open Cart  is fully SEO optimized in Google, making it possible for your product and Services category pages to rank higher on the First Page in Google Search Engine Results Page. So, whenever someone is looking for a product similar to what you offer, they will come to your website or app.
The OpenCart dashboard is quite intuitive, allowing you to focus on the essential aspects. Through this technology, you can check analysis, get reports and find people online easily and conveniently. You can also connect to System.
Completely Interactive and Responsive Design
With the increasing number of mobile phone users, there is a need for web developers to come up with solutions that run equally well on smartphones. This is where you need to develop a mobile-responsive design. OpenCart helps you achieve this without putting in extra effort.
Enhanced Performance & Usability
OpenCart enables you to improve the overall functionality and performance of your e-store for a better user experience. The experts at WSPL know how to get it done with the right equations of time and quality.
End-To-End OpenCart Development Solutions
WSPL proven expertise in open source technologies and frameworks has helped many businesses succeed. We provide various OpenCart website development services for eCommerce Udaipur which include developing modules, OpenCart designing and development, custom OpenCart services, payment gateway integration, OpenCart consulting etc.
Being the best OpenCart development company in Udaipur, we are all-rounder's, offering end-to-end web solutions that meet all your business needs. Due to their updated knowledge and attention to fine details, our developers have achieved a leading position in the OpenCart development niche industry.
We are proud of our unique ideas that enable us with the innovative OpenCart Development Services Udaipur to create online stores that are quite different from each other. Furthermore, our extensive experience in the eCommerce sector revolves around the design, development as well as promotion, marketing and search engine optimization for your e-store.
 OpenCart Mobile App Development
We are an award winning OpenCart Development Company Udaipur. Our OpenCart developers create mobile applications that deliver the right balance of great design, excellent technology, and an understanding of brand personality.
The experts at WSPL Ltd make every effort to ensure that we match every mobile app development solution but that also exceeds your expectations. You will feel comfortable working with experienced, smart and efficient teams when you join hands with us for OpenCart development.
We develop an application that facilitates easy navigation features, such as – click and go.
OpenCart Marketplace Development
If you want to set up an online marketplace, OpenCart is the best option for you in this case. The platform is highly suitable for start-ups and medium sized eCommerce businesses. Our OpenCart developers assure you of providing the highest level of support and creating the unique eCommerce marketplace you've come to expect.
When you incorporate marketplace management with your existing OpenCart store, you can efficiently start with your online marketplace that will ensure the best results for your business.
OpenCart Migration Services
Migration is quite a difficult and painful process, as you have to consider many factors while migrating, such as – page speed, UX and SEO. WSPL offers OpenCart migration and upgradation services as well as migration from other eCommerce portals, including Shopify to OpenCart migration.
Skill Sets of Our Open Cart Developers
OpenCart development is a very in-demand service.
Our OpenCart developers carry out all their work to the most satisfactory level by keeping themselves up-to-date with proper coding strategies, bug fixing and latest and most advanced technologies.
The enthusiasm of the work separates an excellent web developer from a regular web developer. Our OpenCart eCommerce app developers are passionate about their work.
OpenCart Web Developers, WSPL Are skilled and experienced with almost all available technologies, frameworks and platforms. This enables them to develop the most suitable websites and applications.
Lift your business to new heights with our digital marketing services
Registered Office
Webtech Softwares Pvt. Ltd.
152/B, 1st Floor, Shakti Nagar Corner, Udaipur-313001 (Rajasthan) INDIA
anil_udr@yahoo.com, info@webtechsoftwares.com
Call Now: +91-98280-24253, +91-98291-24253