One of the most preferred and user-friendly ecommerce platform, Magento is a name that has carved a niche for online merchants by providing excellent benefits with high functionality, more control over looks and highly versatile and flexible shopping cart system. It is an open source technology that provides highly powerful marketing, SEO and catalog-management tools.
WSPL is a leading magento development company where you can find expert level magento skills. We strive to provide robust storefront model to our customers by working with different Magento versions like Magento 1.9, Magento 2.0.
We have a team of magento certified developers in our magento development company having more than 20 years of experience with expertise in magento ecommerce orientation on web and hence we also provide custom magento web design.
Why to choose WSPL for Magneto?
Magento provides dedicated platform for enterprise development interfacing capabilities to secure the best business presence in the web domain. We will build the most prominent and efficient Magento enterprise development model for your ecommerce growth. As a leading Magento development company, we can also maintain your commerce presence through our e-commerce development expertise.
As a flag bearer and leading Magento Development Company, you will find Magento skills at an expert level at WSPL. We aim to provide our customers with a robust storefront model and thus, you can now add and enhance features to your eCommerce store that will boost your scalability. Our Magento development company follows the standard Magento development methods of using the latest IDE and being a leading Magento development company, we ensure quick and satisfactory solutions to all our customers.
There are many reasons why developers are asked to accommodate a Magento website. It is a very robust system even in its most basic form. Once you start integrating with other systems, or introducing thousands of products, businesses often need the help of experienced developers.
As an example, we need additional options for the way customers view dashboards. Typically you can choose to view products in groups of 5, 25, and/or 50. We have a customer who wants to see 2000. Functionality can only be changed up to a point; Also, it needs to be customized by an expert who really understands Magento, and follows best practices.
Experienced developers will also tell you that speed is of the essence in eCommerce. No one wants to wait for the system to reload when you're doing a lot of online purchases.
With such a strong list of core features of the application, stress can be put on your server. While we don't yet have a Magento client that needs more than one server for their online store, I can see this situation arise in the future.
Magento eCommerce Features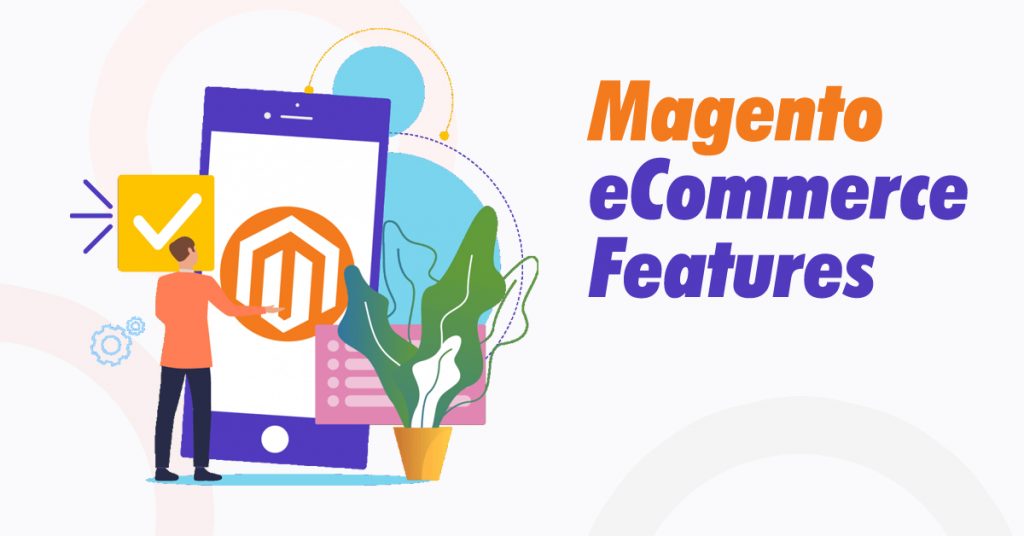 Magento provides almost everything to set up an effective eCommerce website. Where catalog management, advanced search features, payment-processing gateways, order management are everything, you can work here. To better understand the many benefits of Magento, you need to explore some of the many great eCommerce features that Magento offers.
1. Catalog Management
eCommerce merchants need not forgive product inventory management. The idea of ​​catalog management sounds simple enough, but it is quite difficult for many traders for a number of reasons. You need to maintain a single catalog for all your products, and this should lead to an increase in sales. It is very official to present your products with Magento eCommerce. You can also control the catalog easily.
2. Order Management
Order management is an important process that enables an online store to run efficiently and keeps customers happy, which they may keep coming back to in the future. Order management in Magento bridges the gap between in-store and online and streamlines the customer experience. This ensures convenient, flexible and cost-effective delivery.
The order fulfillment system provides processes for shipping, order organization, refunds and order status. It includes everything that an eCommerce business needs to increase revenue through order fulfillment operations.
3. Search Engine Optimization
Setting up an eCommerce website is one of the initial steps to drive consistent sales in an online store. There are many strategies for driving traffic to a site, but by far the best long-term strategy is with SEO. Without search engine optimization, no one can find the products they want to buy on the Internet and your store can't find its customers.
4. Advertising and Marketing
Marketing and advertising are important for your eCommerce store. A successful online store requires timely marketing campaigns and online promotion to keep visitors from making purchases and coming back in the future. With Magento, you are provided with the option of using a wide range of marketing tools for your eCommerce business.
It allows you to handle and sort coupon codes, promotions, etc. For better customer behaviour, it is important to have a well themed site and it can be modified as you like. Magento includes many sources to offer themes and designs and most of them are free to use.
5. Internationalization
Website internalization is the common approach for SMEs looking to boost their international sales and marketing. It is relatively simple but makes a huge difference in finding as well as transacting with partners and customers abroad. Magento offers the opportunity to move between your country's borders and diverse cultures with its support on currencies and languages ​​in different parts of the world.
6. Easy Checkout
You are not limited to one checkout option – Magento eCommerce includes easy checkout options. Checkout has a significant impact on eCommerce sales and a lengthy or messy process can lead to abandoned carts. Keeping the checkout process simple increases your chances of a successful purchase.
7. Payment Modes
Payment is one of the biggest concerns for merchants when choosing an eCommerce shopping platform. Getting paid is the main objective of online stores selling products and subscriptions. Magento eCommerce includes a plethora of payment options. Your customers are provided with the option to choose from various payment methods as there are different popular payment systems in different regions.
When your customer places an order on the Magento eCommerce store, it will provide him with both instant (PayPal, credit card, etc) or delayed (cheque, COD, credit, money order) payment options. Whatever payment methods your customers choose, Magento provides convenience while meeting their payment expectations and reducing your risk of non-payment.
8. Analytics & Reporting
Timing and burn rate are important factors for the success of any business. If you are not tracking which marketing activities are working and which are not, you are wasting both money and time. Keeping reports on all areas of online sales and marketing activities gives you several advantages over competitors who do not have this statistical information.
9. Enhanced Security
eCommerce security is important to businesses and a fundamental principle that runs through every business is trust. All these features of Magento eCommerce are geared towards building and enhancing customer trust. To reduce the chances of security attacks and prevent password hacking, the eCommerce platform has added two-factor authentication and Google Recaptcha. These features ensure the security of certain eCommerce pages like Register, Login, Contact Form, Admin Login and Forgot Password.
BENEFITS OF USING MAGENTO
Easy to install and add additional layouts and plug-ins.
Open source technology that provides flexible, scalable ecommerce solutions.
Effective and cost sensitive program.
Allows for various High discounts and promotions during check-out the website.
Offers more than 50 payment gateways.
Right Strategies, Implementation, and Success.
Registered Office
Webtech Softwares Pvt. Ltd.
152/B, 1st Floor, Shakti Nagar Corner, Udaipur-313001 (Rajasthan) INDIA
anil_udr@yahoo.com, info@webtechsoftwares.com
Call Now: +91-98280-24253, +91-98291-24253