Branding that helps you achieve successful results in your business
Think about the brand you love. Think about its colors, its logo, the tagline, its connections tells you how to feel. In many ways, corporate branding is important only as a product or service. It can tell a story about the history of the company or indeed, its vision for the future.
Webtech Softwares Pvt. Ltd. provides corporate branding solutions to create a distinct identity for your brand so that you can enjoy a premium edge over the competition.
With an incredible understanding and proficiency in corporate branding services, Webtech Softwares Pvt. Ltd. brings you the ultimate brand strategy that sets you apart from your competitors. With the help of our designing techniques, you can get the best from your products and services and gain fame and loyalty in the minds of your target audience. We specialize in creating successful corporate designs that help attract more and more visitors to the global market.
It should include the following aspects.
Clarify the vision and mission of a company.
Seeing and executing a desirable brand image in the minds of consumers.
The purpose of a definitive plan to achieve the major milestones of corporate identity.
Providing corporate branding solutions that address any organization's issues.
The brand is user friendly and makes it easy to obtain and consume information. We focused on the deep emotions that our scene developed, beyond just logos, fonts and color palettes. Our goal was to build a spirit.
What is brand identity for your business?
Brand recognition is the face of a brand. A brand is an emotional and even philosophical concept, while brand identity is the visual component of a brand that represents big ideas.
Brand recognition includes logos, typography logos, colors and reinforces the brand's current reputation. Brand recognition attracts new customers towards a brand, while existing customers feel at home. These are both external and frontal.
How do you create a brand identity?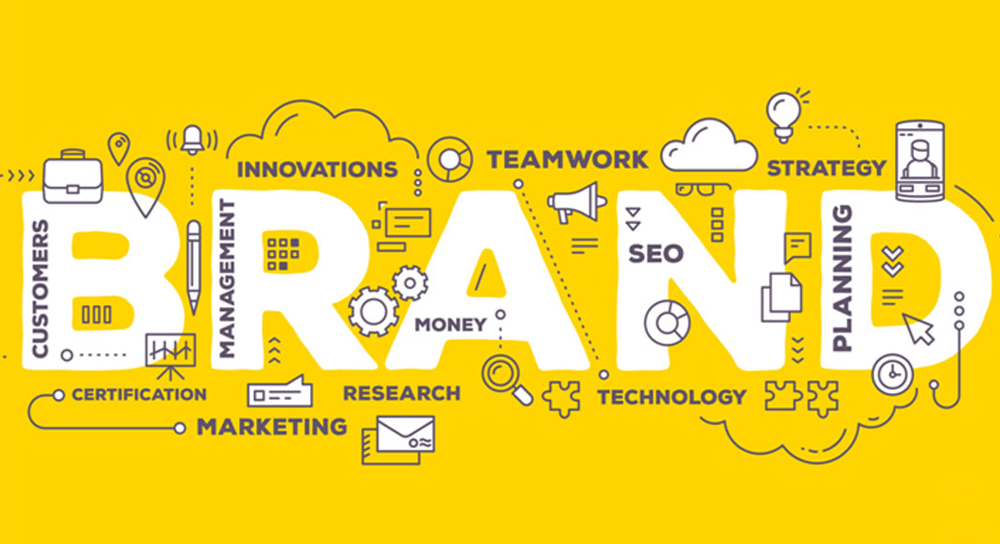 1. Clear brand objective and position
Brand purpose is the reason for a brand to exist beyond making money. If you want a really powerful brand objective, then it should be related to the product or service. For example, if you are in the educational field, your objective may be to help children and to groom their future.
Brand positioning is the way you differentiate yourself from your competitors and how consumers identify and connect with your brand. It is full of core qualities and values ​​that are synonymous with your company.
2. Market research
One of the best ways to do market research is to simply talk to people as per your subjects. Interviews allow detailed discussion and a useful emphasis on the human element of research an element that is essential if you want to create an emotional appeal to customers.
3. Like brand personality
Brands are the hallmark of organizations and their products or services. We can apply this list of features to brands as well as people and don't forget that choosing the right brand personality and promise can increase your brand's chances.
If you are having a hard time starting, here is an effort to make. Which celebrities best represent your brand? Is there an actor or actress, musician or public personality who embodies the same traits as your brand? This can be a good starting point for various aspects of your brand's personality.
4. Memorable logo
Did you know that effective and consistent use of signature color can increase brand recognition by up to 85%?
Your logo is central to your brand identity design. This is the piece of your brand identity that people will be most exposed to. This complements your brand's broad emotional appeal, along with all other elements of your brand identity.
5. Attractive color
Color choice is an important factor in the design of every logo. A logo design with the right color combination is the best way to highlight a business brand and attract all potential customers. Going for the wrong colors can equally negatively affect your business.
6. Typography
If they are not well equipped with typography, then graphic design is meaningless. There is a heavy presence of the use of typography elements, especially in text-based designs. For graphic designers, the use of typefaces is important to create a message for the audience or the target audience of a brand.
This ultimately provides building recognition for a brand. The efficient use of typography gives the text a unique shape in the design and places the letters in corporate flyer design such a way that it becomes memorable to the audience.
I found this beginner's guide to typography helpful. Some best practices include.
Do not use fancy fonts.
Don't avoid default fonts. They are readable, and you can set the typeface separately if you want it to stand out.
Do not mix more than two font families at a time.
Do not use all caps to emphasize text.
Making the world talk about you
Registered Office
Webtech Softwares Pvt. Ltd.
152/B, 1st Floor, Shakti Nagar Corner, Udaipur-313001 (Rajasthan) INDIA
anil_udr@yahoo.com, info@webtechsoftwares.com
Call Now: +91-98280-24253, +91-98291-24253